All You Need To Know About Replacing Polybutylene Pipes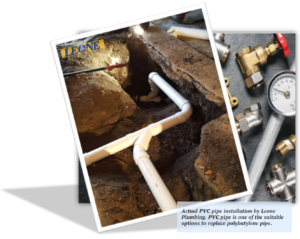 When it comes to house renovation, one important aspect that a homeowner has to look into is the plumbing system. In the process of renovation, you may uncover plumbing issues that have to be dealt with such as obsolete pipes. Homes that are built before 1995 may have used polybutylene pipes that are outdated and have to be replaced.
Why Does It Matter To Replace Polybutylene Pipes?
If your home is built back in the mid-70s to mid-90s, you may have polybutylene piping underground. It really matters to replace polybutylene pipes due to the high risk of bursts or leaking with this type of piping. There is even a
history of lawsuits filed to stop the usage of polybutylene piping
due to the damages it caused. It could be a long-term problem if this type of pipe isn't replaced. Leaking old pipes allows water to pool up inside ceilings and walls which can be a
breeding ground for molds
. Aside from the health hazard due to molds, leaking pipes can also increase your water bill!
How Can You Tell If Your Home Has Polybutylene Pipes?
Polybutylene pipes are known for their blue color trademark. However, they are also available in colors black and gray. But the surest identifier of polybutylene piping is a stamp that says "PB2110". Another way that you can find polybutylene pipes is in places where they are commonly located. They are installed as water supply lines only and you can't find them as vent pipes or drain. These are the places in your home where you can find them.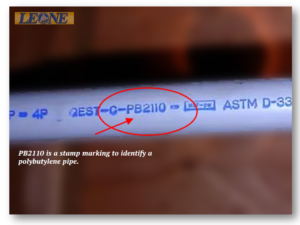 At your main shutoff valve
Connected to your water heater
Attached to sinks and toilets
At the ceiling of your basement where pipes are exposed
Why Do You Need To Replace Polybutylene Pipes?
Polybutylene
(Poly B)
piping is known as a cheap and easy solution. However, it was later found out that polybutylene piping could not withstand harsh disinfectants in the public water supply such as chlorine. Over time, polybutylene pipes may corrode and crack which will cause leaks. Leaks caused by leaking Poly B pipes are difficult to detect immediately
(since it's underneath)
until you experience the damages it brings. Since Poly B pipes have a high risk to burst or leak, the
International Association of Certified Home Inspectors recommends
that homes with Poly B piping get their plumbing system replaced.
Replacements for Poly B Pipes
The suitable replacements for Poly B pipes are copper pipe, PEX tubing, and PVC pipe. There are factors and considerations as well as which ones to pick. It would be best if you speak with an expert to help you assess your old pipes and what would be your best option.
Contact us today
so our experts can help you! We have options to offer that are easy on your budget and we even have
financing options available for you
.