Professional Bath Design – Rochester, NY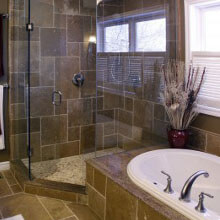 If you need a custom design bathroom remodeling Rochester, NY project then you are in the right place. Leone Plumbing and Heating, also referred to as Leone Services, provides attractive and practical bathroom designs Rochester, NY and all surrounding areas such as Pittsford, Fairport, Greece, Gates-Chili, Webster, Henrietta and everywhere in between.
We believe that your bathroom should be an elegant oasis and we take great pride in transforming it into one. When you put your trust in us you are getting experienced, licensed contractors that specialize in complete bathroom remodels. Please visit our gallery for ideas in your personal bathroom.
1. Consultation
During our initial consultation, we provide our customers with outstanding bathroom design choices to assist in finalizing your thoughts.
2. Remodel
This is when we do the bulk of our work and build the bathroom of your dreams! We work with our customers throughout the entire process.
3. Delivery
The final stage of our remodeling process is when we work with our customers to ensure 100% customer satisfaction.
How We Work
Leone Plumbing and Heating (aka Leone Services) provides the best brands of toilets, sinks, showers, tubs and cabinets, as well as accessories such as heated towel holders and custom cut mirrors. We realize the bathroom is a sanctuary for hygiene and make sure to keep that in mind during the bathroom design process, including staying on schedule and budget.
Exceptional professionalism
Highly responsive
Highly responsive
Professionalism
Andy and his team did a great job remodeling our bathroom. It looks great now and was done with professionalism and in a timely manner. I am glad I went with Leone Plumbing!
Amazing job
Andy and his team did an amazing job on our bathroom!!…The process was very easy going and we love the results. The price we paid was fair. We will be using them again in the future for sure!
Top notch
Very competent and patient, always ready to hear our suggestions and concerns and willing to make changes. Our bathroom was finished in a timely manner and the work was top notch.
Dependable
The design and consultation opens up a whole new world of bathroom options….The finished product was far better than I expected….They were friendly and efficient, professional and dependable.
Got Questions?
Our goal is to provide the best customer service and to answer all of your questions in a timely manner.
1. When can we get started?
Leone Plumbing & Heating is highly responsive. We typically work with our customers to first determine the urgency of the job. If our customer is in need of emergency plumbing service, we are generally able to provide services within 1-2 hours. For larger or non urgent jobs, we work with our customers to provide professional plumbing services at your convenience.
2. How much does it cost?
Leone Plumbing & Heating is able to offer highly competitive pricing throughout Monroe county and the Rochester area. Prices will vary from job to job depending on the work that is required. Please contact us through one of or web forms or via telephone for more information regarding your job.
3. What areas does Leone Plumbing service?
We serve all of Monroe county.
Rochester
Penfield
Pittsford
Victor
Webster
Greece
Gates
Spencerport
Fairport
Hilton
and many more!
Get in touch
Have questions or need more information? We're standing by and ready to help!