Big Ideas For A Small Bathroom Remodel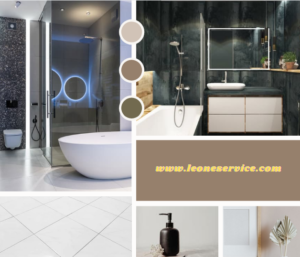 There is no place in your home where you can be rejuvenated like your bathroom. You might be desiring to transform it into an oasis! However, is it possible for a limited-sized bathroom? Let's talk about small bathroom remodel ideas to make your bathroom more spacious, and turn it into a relaxing space you've been dreaming of.
The Truth About Bathroom Renovation
Size is not a limitation when it comes to bathroom renovation. The truth is, it's all about the bathroom design. A large bathroom can still look small if the bathroom components are not carefully planned and installed. A cluttered space can make a large bathroom look small. A small bathroom on the other hand can look amazingly large with the right bathroom fixtures and decorations. If you want to achieve that big change for your small bathroom, here are the small bathroom remodel ideas you can look at.
1. Right Sized Fixtures For A Limited Space
In renovating a small bathroom, scale and proportion are critical factors to consider. Avoid bulky fixtures that take too much space in your bathroom. Go for a slim and multifunctional type of furniture and fixtures that can save space.
2. Shift To Glass Shower Doors
For a small bathroom, a glass shower door is recommended since it opens up the space. Clear glass also reflects light more effectively which makes the bathroom look brighter and larger.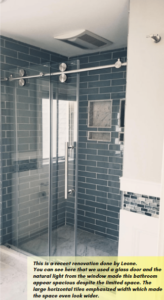 When the eye sees bigger objects, the brain will associate them with large spaces. Visually speaking, using larger tiles creates an illusion of a bigger bathroom than its actual size. We highly recommend large white-colored tiles since it's a good reflector of light. The light that is reflected by the white tiles makes the bathroom look bigger.
4. Make Way For Natural Light
Small bathrooms often look dull and dark. To open up the space and make the bathroom look larger, opt for natural light. If you have a small window, natural light can get into the bathroom by installing a skylight or solar tunnel.
5. Look Big With Mirrors
The more light reflected in your bathroom, the wider it will look. So instead of installing a small mirror above the sink, opt for a larger one. The mirror will serve as a window that adds more light to the bathroom to make it visually larger.
Other Things To Consider For Small Bathroom Remodel
According to
Better Homes & Gardens
, bathrooms have evolved into our wellness sanctuaries. Bathrooms should be inviting, relaxing, and beautifully decorated but never at the expense of their functionality. Make it an aim to create a functional and welcoming space when doing a small bathroom remodel.
Let's Talk More About Small Bathroom Remodel
Bathroom renovation can be a challenge, especially for a small bathroom.
Talk to us
and we will help you plan and execute your desired bathroom transformation!
Photo Credits: From Pexels – Max Vakhtbovych, Victoria Borodinova