Traditional kitchen faucets have been around for many years. But as time changes, our modern way of living demands us to upgrade our homes to suit our needs. From conventional faucets, homes have switched to smart sink faucets which have become popular nowadays. They look appealing and give a luxurious aesthetic and can decrease energy bills too!
Why Should You Upgrade To Smart Sink Faucets?
Homeowners are now considering smart sink faucets not only because it's cost-efficient, but also because the technology is convenient and hygienic. For example, when you wash your hands or face, you might have felt that the water was either too cold or too hot. You might have wished that you can easily control the water temperature. With conventional faucets, it will take you time to get the right temperature that you prefer. With smart sink faucets, you can now control the water temperature and do even more in a snap!
Different Types Of Smart Sink Faucets
There are different types of smart sink faucets available in the market that suits your style and daily needs. Let us take a look at the various types of smart faucets.
1. All In One Faucet
If you want your faucet touchless, voice-enabled, and with a pull-down function all at the same time, this is the right faucet for you! As the name suggests, it's all in one and this is probably the best type of smart faucet available.
2. Voice-Enabled Faucet
This is a popular type of faucet which is a top choice for homeowners who are upgrading their conventional bathrooms or kitchens into smart ones. This type of faucet is voice-enabled and everything is in control by voice commands. For example, you can say something like
"Siri, wash my hands"
, or
"Alexa, turn the faucet to run at 100 degrees".
3. Touchless Faucet
Having dirty hands is no longer a concern whenever you wash. You can simply wave your hand on the sensor and wash your hands without touching the faucet thus keeping it clean. This faucet comes with infrared sensors that turn on the water if you wave your hand near the sensor.
4. Pull-Down Faucet
A pull-down faucet is not really considered a smart one, but it comes in handy during certain situations. You can simply pull down this faucet and wash hard-to-reach items with ease and convenience.
Buy The Trusted Brand Of Smart Faucets!
If you are looking for an unmatched smart faucet experience, we highly recommend
Moen Smart Faucets
. Moen Smart Faucet is available in various types. They are not only durable but also come with stylish designs to achieve that modern look for your bathroom or kitchen.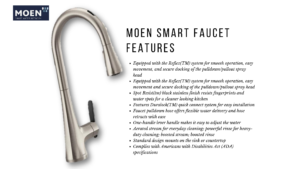 Transform Your Bathroom And Kitchen With Smart Technology!
Smart faucets are not only suitable for homes but also good for business too!
Consult with us TODAY
to know the best smart faucet technology for you.
Read More