How to choose shower tile?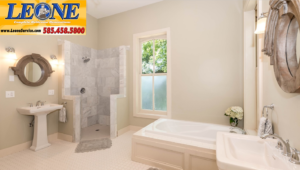 How to choose shower tile?
The crowning glory of your bathroom is the shower. Choosing the right shower tile is essential to make your bathroom shine. It can be an overwhelming and disappointing experience if the right tile is not selected for its purpose. You need to choose a good shower tile to avoid untimely tile repairs or updates that can be costly. Determining a good tile can help you pick the right choice and avoid regrets.
What makes a good shower tile?
There are three points to consider to identify a good shower tile.
Proportion
Proportion is critical with all wall tiles, and it's the same with shower tile. Your choice of tile should be proportionate to what is inside your bathroom. A good tile should fit very well in the area where you will be installing it. Nowadays, large tiles are more popular for a modern look. If you would like your bathroom or shower to look spacious, consider using large format tiles. The beauty of large shower tile is it creates a wide space look with less grout line.
Long-term performance
A good tile should also have a long lifespan and can withstand damages. We recommend porcelain tiles as it is known to be durable, and won't scuff, tear, dent, or puncture. If you compare porcelain from ceramic tiles, they are denser and less porous. This makes porcelain tile more impervious to moisture than ceramic. On the other hand, ceramic tiles are less dense and more prone to cracks and breaks. To test, you may try chipping a piece of porcelain tile. You can see that the damage is nearly invisible and the color continues all the way through. We highly recommend porcelain tile due to its durability which is suited for heavy usage than ceramic tile.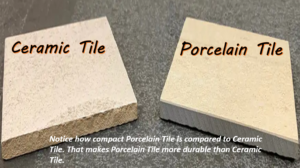 Aesthetics
The overall look of your shower tile adds beauty to your bathroom. For your bathroom and shower to look sleek or classy, choose light shades of tiles. A light shade tile does not only offer an elegant look, but it will also make the bathroom look more spacious. To achieve that "rich and clean" look, another choice is glass tile. The translucence of glass with its variety of colors is an excellent material you can choose. The light that glass tiles reflect gives a brighter and larger appearance to your bathroom.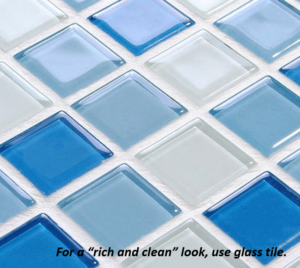 The best place to shop for shower tile.
Now you know how to determine a good tile, it's time to shop! Our choice of suppliers is tried and tested. They have a large selection of tile choices for your bathroom makeover. The top tile suppliers we recommend are
Best Tile, The Tile Shop, and Artwalk Design
. They provide top-quality tiles at a relatively good price.
Knowing the best shower tile is the first step towards achieving your dream bathroom.
Contact us
today and let our creative experts help you with your bathroom renovation needs. | Photo Credits:
Pixabay