Removal Of Tree Roots In Sewer Line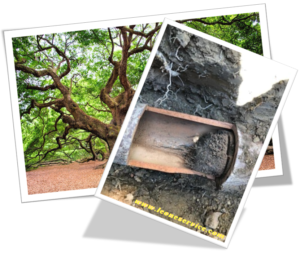 Tree roots can easily slip through and invade your sewer line. They are silent destroyers of your sewer line that can lead to numerous expenses. But they can be eliminated and prevented. In this article, we will discuss some of the alternative ways for getting rid of tree roots in sewer lines before they thrive and cause further damages. However, these approaches are NOT recommended due to their safety risks and tedious nature. We always recommend cleaning tree roots mechanically using a snake machine or sewer line replacement.
Handyman Ideas For Getting Rid Of Tree Roots In Sewer Line
You can get rid of roots on a sewer line at the early stage of growth. There are inexpensive DIY solutions that you can use such as:
Rock Salt
This is different from table salt. This is the kind of salt that is thrown on icy sidewalks during winter. All you have to do is to gradually flush a couple of pounds (
1/2 pound at a time
) of rock salt down the toilet. Allow the rock salt to sit in the pipes for 12 hours by turning off the water. By doing this, you are creating an environment that is hostile for small roots to grow and slowly killing them.
Copper Sulfate
Also known as bluestone, copper sulfate is a type of herbicide. What you will do is flush 1/2 cup of copper sulfate on the toilet. To move the bluestone down the pipes, flush multiple times. Caution though, copper sulfate can be toxic for animals. It is suggested that you leave the house with your pets and come back after several hours. The effect of the bluestone may take a few days and you need to be patient. Please contact the
United States EPA
for further information about the safe usage of copper sulfate.
Concentrated Weed Killer and Dishwashing Liquid Combo
Mix 400 ml of dishwashing liquid to 800 ml weed killer. After mixing, leave them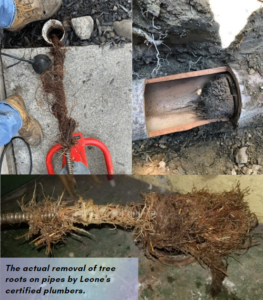 for several hours so they can bond together. Pour the mixture on your toilet and flush gradually to ensure it travels to the pipes. Do not flush your toilet until after 24 hours. The foam created by the mixture should coat the roots causing them to die.
Caution: This can also kill nearby trees
. If you go with this option, talk it over with your household.
For stubborn tree roots, let the professional deal with it!
Dealing with tree roots in sewer line can be a tough one. If a DIY solution in getting rid of tree roots doesn't work, let a professional do it. Our expert plumber can cut the roots using a snake machine with several tips for cutting and retrieval. This equipment can also remove other debris that causes clogs. There are scenarios wherein the real culprit is those little cracks on the pipes where roots can easily slip in. Our master plumber may also recommend repairing or replacing the pipes if found out to be damaged that allows the roots to grow inside.
We Are Here At Your Service
For professional removal of tree roots in sewer line,
talk to us
so we can help you.
Image Credit | "Huge Oak Tree" by RegalShave in Pixabay