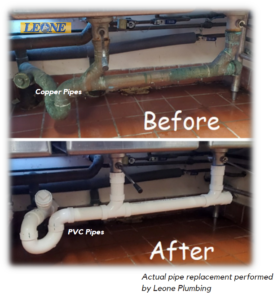 Water piping connections are the most vulnerable part of the plumbing system. That is why you must pick the right piping materials for your home. There are many options to choose from and choosing the right pipe can be confusing. Today, let us look at the different types of pipes to find out what is best for your home plumbing system.
Different Types of Pipes For Your Residential Plumbing System
PVC Pipes
PVC or P
olyvinyl Chloride
pipes are mostly used for sinks, toilet drains, or waste lines. This type of water piping material is lightweight and more convenient to work with than traditional galvanized steel pipe. However, using
PVC pipes is not permitted everywhere
. It is better to review your local regulations before installing PVCs.
PEX Pipes
PEX pipes are best used for water supply lines. This plastic piping material is known to withstand the high pressures of your water supply. Professional plumbers are drawn in using PEX pipes since they are flexible to weave through walls, ceilings, basements, and crawl spaces. Like PVC pipes though, they are not permitted everywhere and you have to check your local regulations before installing PEX pipes.
ABS Pipes
Acrylonitrile Butadiene Styrene
(ABS) pipes should not be confused with PVC pipes. They are much alike except that the ABS pipe is black and much softer. It is mostly used for drain and vent lines. This pipe is easy to install, durable, and cost-effective. The only downside is it can easily warp when exposed to direct sunlight.
Copper Pipes
Copper pipes are best used for residential water supply lines. This water piping material is durable and safer to use than other pipe materials like plastics that leach chemicals. Though it's costly, it is fairly durable for your residential plumbing.
Galvanized Steel Pipes and Cast Iron
Cast iron pipe and galvanized steel pipe are mostly found in older homes. These types of water piping materials are best used for water supply lines, drains, and vent lines. They are known to be very durable and can last for a long time until such time it rusts. These pipes are heavyweight and are difficult to cut through. To this day, they are mostly used in commercial buildings.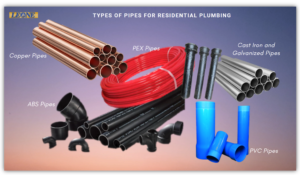 How Do I Know If I Pick the Right Pipe?
Deciding on the right pipe for your residential plumbing has many factors to consider. First, you need to know the function that the pipe has to perform and also the area where it will be installed. You also have to look at your budget. The cost of the material may affect your decision. In addition, you have to check your local building codes to ensure that the type of pipe you choose is permitted. If you come to a point where you don't know which options to choose, you can speak to a professional plumber or contractor.
Contact us right now
and our team of experts can help you decide!
Read More