How our clogged drain service works
1. Professional Diagnoses

First, we send one of our highly trained plumbing technicians to diagnose your clogged drain and propose a solution that will not only fix the problem but stay fixed

2. Making the repair

After authorization from the customer, our technician will go ahead and proceed on with the proposed fix. Please see below for some of the common repairs that we make.

3. Warranty

At Leone Plumbing, we have a reputation for making long term fixes that will last. We are so confident in our abilities that we will actually warranty our work, should the problem continue to occur.
Diagnoses
Every plumbing setup is different and that is why an expert diagnoses is always needed to ensure that the proper fix will be made. One of the first things that we look at during our diagnoses is which plumbing fixtures are not flowing or draining as they should. Shown below are some of the most frequent scenarios that occur:
One plumbing fixture is not draining properly
When a clogged drain is secluded to one plumbing fixture, this generally points to a branch line failure. This means that the pipe going from your plumbing fixture to the main trunk has been clogged by waste. In order to fix this type of clog, we typically use our auger or one of our mini snake machines to clean out the branch line. In some cases we may even have to remove the fixture, clean the branch line, and then put the fixture back.
All plumbing fixtures in one bathroom cause a backup at the lowest point
When all plumbing fixtures in one bathroom are failing, this typically points to a main trunk failure. This means that there is a blockage in the main trunk and it is preventing the passage of waste from that entire bathroom. In order to free up this type of blockage, we would need to remove one of the fixtures in the bathroom (usually the toilet), and then use our snake machine to clear out the main trunk. This breaks up the debris in the pipe and allows the waste to travel smoothly all the way out of the structure.
All plumbing fixtures in the entire home/building cause a backup at the lowest point
There are two things that can happen if all plumbing fixtures seem to be failing. If this home/building runs on a septic tank, it can mean that the septic tank is full and needs to be pumped. If the septic tank is not full or this property does not use a septic tank, then it means that there is most likely a clog outside in the ground. To free up your main plumbing line outside of the home, our highly skilled technician will look for a plumbing clean out. This entry point will allow the technician to use our big snake machine or jetting machine to free the clog. In some cases these types of clogs can be caused by roots entering the pipes and blocking the flow of solids or even a collapsed pipe underground due to settling. In both cases, we would generally recommend that we televise your main line to visually see what is wrong with the plumbing so we can prevent it from occurring again. Please see how our Main Line Camera Diagnoses works below.
Several neighbors are having plumbing backups
If we determine that the plumbing clog is actually off of the property and affecting several other homes or businesses nearby, this means that we actually need to call the city and have them free up the clog. Considering that sewers in the street are fairly large, this scenario typically doesn't happen. We recommend that you contact us first to hear our opinion on the situation.
Taking into consideration that every home and business has a different plumbing layout, it takes a trained professional to properly diagnose the root cause of your plumbing failure. Our technicians have several years of past experience to envision how your plumbing is laid out within the walls and under the ground. This allows us to diagnose clogged drains in Rochester NY quickly and with high accuracy. Please contact us now if your plumbing isn't working properly.
Reach out to us now
Let us get your plumbing flowing again.
Common Repairs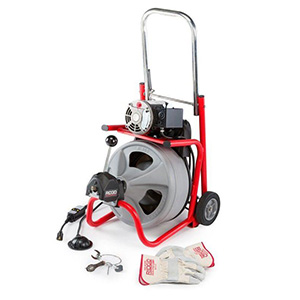 Branch Line Cleaning
For a branch line cleaning, we typically use one of our smaller Ridgid snake machines. The machine shown in the picture above allows us to enter into your plumbing system through smaller entry points in a bathroom.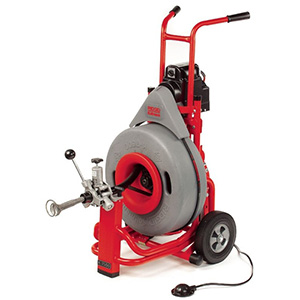 Main Line Cleaning
Main line cleanings typically require a bigger snake machine to clean out the large pipes. This machine is one of our favorite, it does a great job at cutting throw roots that have made there way into your plumbing system underground.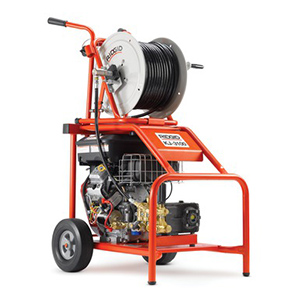 Sewer Jetting
A sewer jetting is typically required for routine maintenance on our commercial service jobs. Particularly restaurants can have a lot of grease build up in there plumbing system that creates a blockage over time. We recommend doing a routine jetting to clean out the lines and prevent a backup during restaurant hours.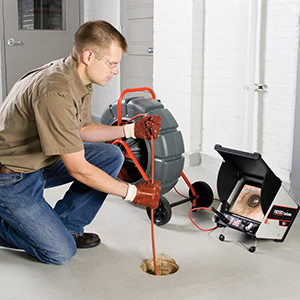 Camera Diagnoses
A camera diagnoses is something that we offer to our customers when they have a plumbing back up and we suspect there is a collapsed pipe in the ground or the pipe is damaged. Using the camera system made by Ridgid, we are able to make a full narrated video of what your pipes look like from the inside and the severity of the damage.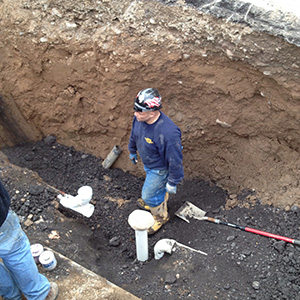 Main Line Repair/Replacement
Main line replacement typically follows after a camera diagnoses if the damage is severe enough. During this type of repair, we dig up the pipe in the ground and replace it with a branch new line so that your sewage and plumbing debris can flow freely again.
Got questions?
Our goal is to provide the best customer service and to answer all of your questions in a timely manner.
1. When can we get started?
Leone Plumbing & Heating is highly responsive. We typically work with our customers to first determine the urgency of the job. If our customer is in need of emergency plumbing service, we are generally able to provide services within 1-2 hours. For larger or non urgent jobs, we work with our customers to provide professional plumbing services at your convenience.
2. What areas does Leone Plumbing service?
We serve all of Monroe county.
Rochester
Penfield
Pittsford
Victor
Webster
Greece
Gates
Spencerport
Fairport
Hilton
and many more locations!
Get in touch
Have questions or need more information? We're standing by and ready to help!