Rochester's
Best Plumbers
Plumbing | Bath Remodel | Heating

INNOVATION
Leone Plumbing is able adapt to the conditions of every individual job in order to provide quality solutions that will last long term

PROFESSIONALISM
Our technicians are trained to understand proper process, procedures, and communication skills

INTEGRITY
We offer a level of transparency in order to ensure that our customer stays informed

EXPERT TEAM
Our team is made up of highly skilled individuals that have been trained by licensed professionals

AFFORDABLE PRICES
Being a top company in the Rochester area, we are able to offer highly competitive prices

CUSTOMER SATISFACTION
Customer feedback is something that we take very seriously at Leone Plumbing & Heating in order to ensure that our company continues to deliver services with exceptional quality
Who We Are
Our goal is to provide both a superior customer experience and tremendous value for our customers.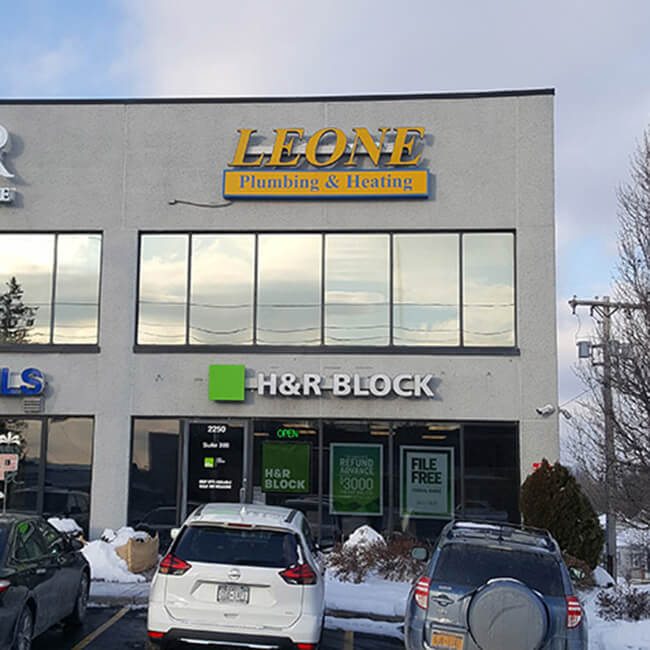 We are focused on providing our clients with the highest level of quality and customer service.
Leone Plumbing & Heating is a local family owned company in Rochester, NY. Leone Plumbing was founded by Andy Leone, who holds plumbing licenses in the state of New York and Florida. He has owned and successfully operated companies in both states. Over 30 years of experience in plumbing, heating, and bathroom remodeling gives Leone Plumbing the skill set required to provide our customers with tremendous value. Throughout the years, Leone Plumbing & Heating has been able to establish a sound reputation in the Rochester area. Some of our customers even consider us the best plumber in Rochester!
Clean, communicative, and professional
Great job all around, clean, communicative, and professional. Most importantly they took great care to minimize the environmental impact their work had on our preemie daughter, setting up barriers and a negative air flow to keep dust and debris to a minimum. Thanks guys! You are officially in my contact list!
Knowledgeable and honest
Someone came and assessed our problem the very next day! We felt he was very knowledgeable and honest. Of the three issues he found, we had one fixed right away and will definitely call Leone Plumbing back when we are ready to have the remaining issue fixed! Highly recommended from a new life long customer!
Above & beyond
We had a plumbing issue early Saturday morning. Andy Leone responded very quickly and fixed our problem. He went above and beyond what was expected for a weekend call. He was polite, professional and knowledgeable. We will do business again with his company.
Outstanding workmanship
Absolutely outstanding workmanship and service. Called at 8am, had a call back about 5 minutes later. Had the plumber here with in the hour. Problem assessed, retrieved parts, and fixed within 3 hours. I will for sure be calling them again when I have a plumbing issue. I would highly recommend.
Got Questions?
Our goal is to provide the best customer service and to answer all of your questions in a timely manner.
1. When can we get started?
Leone Plumbing & Heating is highly responsive. We typically work with our customers to first determine the urgency of the job. If our customer is in need of emergency plumbing service, we are generally able to provide services within 1-2 hours. For larger or non urgent jobs, we work with our customers to provide professional plumbing services at your convenience.
2. How much does it cost?
Leone Plumbing & Heating is able to offer highly competitive pricing throughout Monroe county and the Rochester area. Prices will vary from job to job depending on the work that is required. Please contact us through one of or web forms or via telephone for more information regarding your job.
3. What areas does Leone Plumbing service?
We serve all of Monroe county.
Rochester
Penfield
Pittsford
Victor
Webster
Greece
Gates
Spencerport
Fairport
Hilton
and many more!
Get in touch
Have questions or need more information? We're standing by and ready to help!