Hot Water Heater Repairs in Rochester NY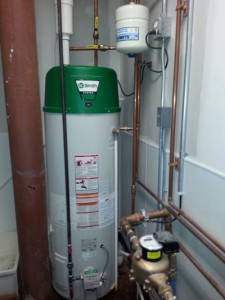 When your hot water heater goes on the fritz it is imperative for you to get the help you need as soon as possible. Many times when a hot water heater goes down it can be repaired by just some simple adjustments but the longer you wait the worse off the problem will become. Leone Plumbing & Heating specializes in these hot water heater repairs.
Hiring an expert plumber to help you with your water heater woes is one of the easiest ways to insure that you get the job done the right way the first time. A master plumber can come out take a look at your water heater and be able to tell you right on the spot what is wrong and what it will take to make it right.
Saving Money with Hot Water Heater Repairs
One of the best ways to save money is to call in a professional! A plumbing contractor can easily take care of your water heater issues, many times without having to replace that entire water heater. Getting a professional to come will ultimately save you money.
A lot of people make the mistake of calling in a handy man. Hiring a handy man cannot guarantee their work and in some cases if you do need to replace your water heater if you do not have the install done by a plumbing contractor you risk voiding the warranty on the water heater.
The cheapest price is not always the best value! The best value is getting the job done the right way the first time. It is a waste of time and money to have someone to come take a look at your water heater that is not an expert in the plumbing field.
Don't Delay
If your water heater is acting up it is best to call a plumber today! Waiting can cause further damage and wind up running up your repair bill. The longer you wait the more damage you can expect. When you notice a problem and you call on a plumber to come and take a look you are minimizing the damage to the unit. You may be faced with some minor repairs and adjustments.
You can easily save yourself, time, money and frustration by calling a plumber as soon as you notice there is something wrong with your water heater make the call! Get the help you need today from a professional plumber that understands what needs to be done!
24/7 Emergency Service
Experienced Plumbers at Affordable Prices
Knowledgeable Technicians to Review Your Requirements Prior to Recommendations
Customer Service Around The Clock – Even After The Work is Complete
Quality Parts Only
If your water heater is leaking, please contact Leone Plumbing and Heating now at (585) 458-5800 or use the below form.
Reach out to us now
Let us install a high quality water heater.
Got questions?
Our goal is to provide the best customer service and to answer all of your questions in a timely manner.
1. When can we get started?
Leone Plumbing & Heating is highly responsive. We typically work with our customers to first determine the urgency of the job. If our customer is in need of emergency plumbing service, we are generally able to provide services within 1-2 hours. For larger or non urgent jobs, we work with our customers to provide professional plumbing services at your convenience.
2. What areas does Leone Plumbing service?
We serve all of Monroe county.
Rochester
Penfield
Pittsford
Victor
Webster
Greece
Gates
Spencerport
Fairport
Hilton
and many more locations!
Get in touch
Have questions or need more information? We're standing by and ready to help!