ADA-Compliant Restrooms And Their Features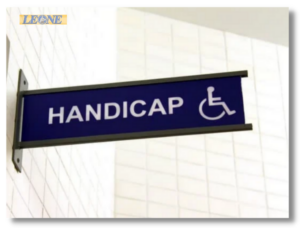 One way to create a healthy community is by being inclusive to all individuals, especially to people with disabilities (PWD). It's good to know that there are
ADA Accessibility Guidelines (ADAAG)
that help in creating inclusive facilities for the handicapped. This guideline sets the standard for establishments to comply with technical requirements that aid the needs of individuals with disabilities. An ADA-compliant establishment provides safe and accessible facilities such as restrooms for PWD.
What Is An ADA-Compliant Restroom?
The standards set by ADA apply to both public and employee restrooms. An ADA-compliant restroom contains features that are stated by the ADA Accessibility Guidelines. The ADA guidelines are set up for the needs and well-being of PWDs. Here are some of the key features of an ADA-compliant restroom.
Sink Areas
Everybody needs full access to sinks for washing and hygienic purposes. However, a PWD can become prone to accidents if a sink is too low or too high. According to the ADA Accessibility Guidelines, a sink should have a knee and toe clearance of 27 inches high. To provide enough mobility, it should also be between 11 and 25 inches deep.
Faucets and Operable Parts
Toilet fixtures such as faucet controls, soap dispensers, and other components that require manual operation should be designed for one-hand use. It should be easy to grasp and not too tight when operated. It is recommended to install motion-activated or touch-free faucets and dispensers which are convenient not only for PWDs but also for other users.
Grab Bars
An ADA-compliant restroom should have grab bars that are mounted on the walls beside and behind the water closet. Grab bars can have circular or non-circular cross-sections but must have rounded edges. The 1½ inches clearance between the grab bar and wall is not a minimum but an absolute dimension to prevent entrapment. Grab bars cannot rotate within fittings. The structural strength of grab bars must withstand a vertical or horizontal force of 250 lbs. at any point on the grab bar, fastener, mounting device, or supporting structure.
Toilet Paper Dispensers
An ADA-compliant restroom should have toilet paper dispensers that are within reach of the water closet. It must allow continuous paper flow and cannot control delivery.
Stalls
According to the ADA toilet requirements, toilets and urinals both need to be at least 56 inches deep for wall-hung toilets and at least 59 inches deep for floor-mounted toilets. Measuring from the right angle of the sidewall, the width must be at least 60 inches.
Doors
To comply with the ADA requirements, doors should be easily opened with a single hand. Maneuvering clearance is required at doors based on the approach and swing.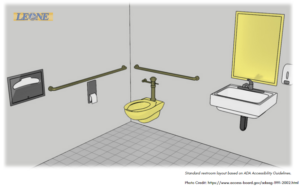 Does Your Restroom Comply With The ADA Guidelines?
You need to ensure that your restroom provides comfort, accessibility, and safety for the handicapped. That is what the ADA guidelines are all about. If you need assistance with upgrading your restroom to be ADA-compliant,
contact us
and we are here to help.