Check Your AC First Before Contacting An HVAC Repair Service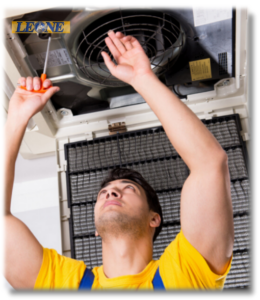 Having a malfunctioning AC can be stressful and can turn into a major headache! But that's not the case all the time. A simple DIY solution can save you time and money. Before contacting an HVAC repair service, there are things that you need to look at on your air conditioner.
Simple Steps To Take Before Calling For An HVAC Repair Service
In some cases, the issue on your AC is just a simple fix that you can do without the help of a professional HVAC repair service. Here are the simple DIY steps before scheduling a repair service with an HVAC professional.
Look At The AC's Power Supply
Check your circuit breakers to see if the circuit where your AC is on may have been accidentally flipped. If it is, switch the breaker on so that your AC unit has power again. If your circuit breaker regularly trips off, you need to call for a professional HVAC repair service. It is a safety problem that needs to be dealt with by an expert.
Check The Condenser Unit
For an outdoor AC unit, the condenser is concealed with vents that protect its sensitive coils. Over time, these vents can get blocked with dust or dirt and may trigger your AC to shut down due to limited airflow. Before picking up the phone to call for a professional, check your AC's condenser and clear it off from debris. Your AC may work fine again after clearing the debris blocking the vents.
Check The AC's Thermostat
You need to look at the thermostat's settings and check that it's not set to
"heat," "vent,"
or even
"off."
The thermostat should be in the "cool" setting. If you see that the screen is faint or does not come on, the batteries may need to be replaced. A new battery may make your AC work properly again.
Clean The Air Filters
Your AC can have difficulty flowing cool air if the air filters are dirty. There are types of ACs that turn off if there is limited airflow. Some may keep on running but with very little cool air circulating the room. If your AC filter is dirty, you need to clean it up or change it. Putting in a fresh filter may improve your AC's cooling effect.
Check The Vents
If you have a running AC but your room is not cooling down, it can be that something is blocking the vents. You need to look around to see that there are no obstacles such as boxes, plants, furniture, or appliances that are preventing the air to flow adequately.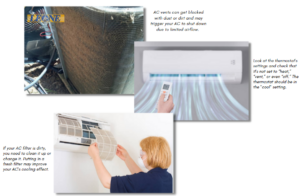 What Should I Do If My AC Is Still Not Working?
If your AC is still not working after doing these DIY steps, this is a perfect time to call for a reliable HVAC repair service. Do not let yourself be stressed!
Contact us
and our HVAC professional is here to fix your AC issues.