Dual Tanks & Tankless Water Heater Systems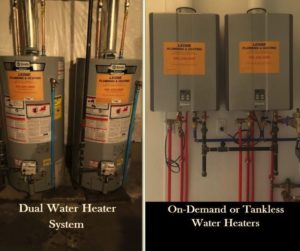 Why would someone install a dual water heater system in their home? A couple of reasons! A common one is that it's a large family household and multiple people are using hot water for various reasons and in large amounts, such as multiple showers and bathrooms. Another is that they have a whirlpool bathtub that requires many gallons of water. Most whirlpools start at 65-gallons while most houses only have a standard 40-gallon tank installed. One solution is to have a 2
nd
40 or 50-gallon tank installed alongside the first. Leone Plumbing has installed these for their customers using a custom built manifold system to link the two together. This has a few benefits.
There are 4 separate shut offs to isolate either of the water heaters in case one breaks down or starts leaking, giving the homeowner time to call their service provider to make necessary repairs or replacement
If one breaks down, the homeowner will still have hot water by simple turning off the quick shut off valve we install on each tank
If the family size is reduced, then homeowner can simply turn off one of the water heaters and operate off the other
At Peak demand, the homeowner will have 80 to 100 gallons of water (doubling the amount of which one can provide)
On-Demand Water Heater Systems provide a different solution for families with the same issues as those that might consider dual water heaters. However, some additional reasons to choose an On-Demand are:
To provide hot water to a hot tub or bathroom located outside the home so the hot water provided inside will not be reduced
To boost dishwashers and/or washing machines
To provide additional support for solar water heating systems
Higher efficiency than standard water heater tanks over the lifetime of the unit
The main difference between the On-Demand and Dual Tank systems is that the On-Demand does not have a storage tank that holds the hot water. Instead, cold water runs through the pipes and is heated up, as needed, by either a gas burner or electric elements. This provides an endless supply of hot water for the household.