Grohe Bathroom Fixtures: Bringing Luxury and Functionality To Your Home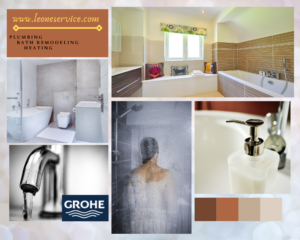 The time we spend in the bathroom is precious. After a busy and tiring day, the bathroom serves as your sanctuary within the home to relax. Your bathroom should not only function well, but it should also offer comfort and a feeling of luxury. So take your bathroom's overall look to the next level with Grohe bathroom fixtures. If you are planning to upgrade, consider Grohe bathroom fixtures to achieve that grand and elegant look for your bathroom.
The Latest Trends In Adding Luxury To The Bathroom
As an expert in bathroom renovation, we are aware that clients want to experience the same standard of comfort they can get from luxury hotels. Most customers want to incorporate that same high standard of comfort in their own homes. That is why we use Grohe bathroom fixtures for high-end luxury bathroom renovation.
Grohe's extensive line of products
offers industry-leading technology providing bathroom sink faucets, shower faucets, and tub faucets for an idealistic aesthetic in the bathroom. The trend for luxurious finishes has become a trend. There has been a demand for more architectural and striking structures within tap design. We believe that the trend for luxurious finishes will continue to grow as people are becoming aesthetically aware through social media platforms like Pinterest and Instagram. Social media will continue to influence how people would want to upgrade their homes, especially the bathroom.
Does bathroom size matter in bringing a touch of luxury into a bathroom?
For us, bathroom size doesn't matter. We can provide a luxurious offering for any bathroom size. You can achieve that luxurious finish through small touches such as matching pretty brassware accessories to the taps and shower fixtures. Grohe bathroom fixtures offer the best and stylish products that cater small to extra large sizing service. If you have an extra small tap, for example, it can be used in a cloakroom with a smaller sink. On the other hand, an extra-large tap is the ideal focal point for a statement room. These examples go to show that even in the smallest of spaces, luxury or product quality does not need to be compromised.
Ensuring Luxurious And Functional Bathroom Experience
What we like about Grohe bathroom fixtures is it does not only offer up to date line of products but it's functional too. The functionality that Grohe products offer ensures a luxury hotel standard of comfort in every bathroom. Plus, Grohe has been an industry itself when it comes to bathroom fixtures. Quality and durability equate to how functional it is. With this being said, luxury and functionality are not only ensured but also future-proof you're home.
Achieve that luxury bathroom of your dreams!
We are here to help you to achieve that luxury bathroom you desire. We offer various
remodel bathroom ideas
that are suitable for you. The renovation cost is doable with our
Home Improvement Financing
option.
Contact us today
to find out more.  |
Photo Credits: Pixabay, Canva