Situations When Pipe Bursting Should Be Considered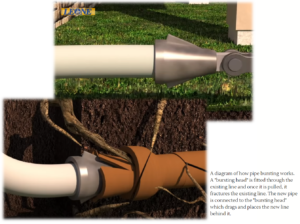 Sewer line repairs can happen anytime for a home or business establishment. There are methods or solutions in dealing with sewer repairs that can either be effective or cause inconvenience. In special cases, pipe bursting is one method that is proven to fix your pipes effectively with less damage to your property. But what is pipe bursting and when should it be considered?
Trenchless Technology For Sewer Line Repair
Pipe bursting is a trenchless technology that does not require digging your property to fix or repair your sewer line. That means you can carry on with your day-to-day activities at home, and business can go on as it is. This technology is very convenient and hassle-free. A sewer line repair can take many days to complete and it may interrupt your daily activities. But with trenchless technology, repairs can be done within the day and even a few hours!
How Is Pipe Bursting Done?
Pipe bursting involves the process of expanding and breaking the damaged or old pipes while simultaneously replacing them with new lines. A
"bursting head"
is fitted through the existing line and once it is pulled, it fractures the existing line. The new pipe is connected to the
"bursting head"
which drags and places the new line behind it.
Situations When Pipe Bursting Is Applicable
There are particular situations to consider when you apply this trenchless technology.
Property's Aesthetics
If you are someone who cares about the landscaping of your property, then it is a good option. Since this is a trenchless technology, there is no need to dig large holes in your yard that may affect your property's aesthetics. This method keeps your property intact and doesn't require large-scale repair of your property's landscaping.
Environmental Concerns
Going for trenchless technology is more eco-friendly than other sewer line repair methods. With this kind of technology, there is no need to use chemicals that are harmful to the surrounding environment. Also, the HDPE
(High-density polyethylene)
pipe commonly used for this technology is made of environmentally safe material.
If you opt for sustainability
, this is the right choice!
Cleaner Repair Option
This trenchless method of sewer line repair is the cleanest solution we can recommend. The method is the least disruptive since there is less digging on your property that could destroy your landscaping.
If Efficiency is A Must!
Traditional methods of repairing or replacing pipes may take days to finish. But pipe bursting can be completed within the day.
Is Pipe Bursting For Me?
This trenchless solution is applicable for special cases. We can help you assess the condition of your pipelines to figure out the right solution.
Contact us now
to schedule an assessment!