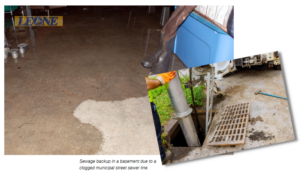 One of the major plumbing issues that cause extensive damage to your home is sewage backup. This happens when wastewater backs up through your drains, sinks, and toilets. Plumbing issues like sewage backup not only wreak havoc on your home but it can also
pose a health risk to your family
. Let us find out what causes this plumbing concern and what we can do to fix it.
What Causes A Sewer Backup?
Knowing the root cause of the problem can help you avoid the cost and inconvenience of sewage backup. Here are the usual causes.
Municipal Street Sewer Issues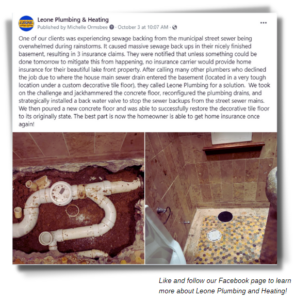 We recently had a client who experienced sewage backing up from the municipal street sewer being overwhelmed during rainstorms. It caused massive sewage backups in their nicely finished basement. This often occurs when the municipal sewage system is overloaded with water and the sewage eventually backs up through the basement floor. Although a municipal sewer line can handle loads of water, excessive rain can still overload the system. So as soon as you see dripping water on your basement floor, contact a professional plumber to check and fix the issue before it gets worse! It's also important to contact the local public work office in the municipality if the issue persists.
Outdated and Old Sewer System
An outdated and old sewer system is common in old houses
(usually built before the 1950s)
. Their sewage system is usually made of cast-iron pipes, clay pipes, or Orangeburg
(fiber conduit pipe)
. These type of pipes may be durable, but it also deteriorates over time. It's a good idea to schedule a regular sewer line inspection to check if the old pipes are still intact and ensure that they are not leaking. Otherwise, replace your old sewer system with PVC or ABS plastic sewer pipe to avoid the stress of sewage backup.
Tree Roots Obstruction
Tree roots always find ways to look for good water sources. They can even sip through tiny cracks in pipes until they can invade and damage the sewage system.
One way to get rid of these unwanted tree roots is by cutting them using a snake machine with several tips for cutting and retrieval.
Depending on the condition of the pipes, they may also need to be replaced if there are damages caused by root invasion.
How To Prevent Sewage Backup From Happening?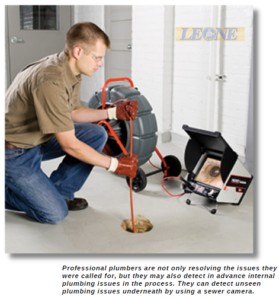 Proper plumbing maintenance is still a good method of prevention. We suggest that you schedule a sewer line inspection with a trusted plumbing professional to check the condition of your sewer lines. We also advise that you do a regular pipe cleaning to prevent any clogs that can cause serious backups. Avoid fat, oils, and other solid materials from flowing down the drain as it can also cause blockages that trigger sewage backup.
You Can Trust Us For Your Sewer Maintenance Needs!
Trust Rochester New York's best plumbers for your home's sewer maintenance.
Contact us
to schedule an appointment and we are here to help you!
Read More