Sump Pump Installers: Sump Pump Replacement and Installation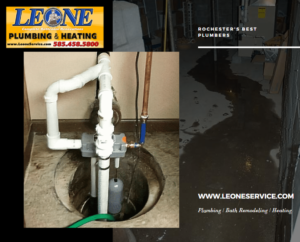 A sump pump is an important piece of equipment in your home. It prevents groundwater from entering your basement. As springtime approaches,  the snow starts to melt and the water goes into people's basements. Frequent basement flooding may cause the sump pump to fail and may require replacement. If this happens, you need a
reliable service
from trusted sump pump installers.
Common Issue With Sump Pumps
One of the common issues that our sump pump installers have encountered is stuck sump pump float. The usual reasons for stuck sump pump float are blockages, dirt build-up, and damaged attachment arms. Any obstructions may cause the float to get out of place. If water has been sloshed on your sump pump and expelled a lot of air, this may cause the float to stuck on the sides of the sump pit. With this scenario, our sump pump installers may reset the pump into a better position to avoid obstructions.
When to replace a sump pump?
Any appliance will one day reach its end of life. If a sump pump isn't working, then it's cost-effective to replace the sump pump entirely. When the time approaches to replace the unit, you will begin to see these obvious signs.
Loud Noises
You will get to hear the sump pump operating if you get really close to it. It is very odd to hear loud grinding or gurgling noise from a sump pump. It is an obvious sign that the motor is malfunctioning.
No Water in the Sump Pit
If there is no water in the sump pit while the sump pump is running, then this tells you that it's not connected to the drainage system. The pit is empty maybe because the sump pump was not installed properly or due to clogged drainage.  As soon as you see the pit is empty, call a professional plumber immediately.
Contaminants in the Sump Pit
With heavy flooding,  debris and contaminants may get into the sump pump and clog the system. Eventually, this will slow down the equipment until it fails.
No Power
Most
sump pumps
operate on electricity and will stop working without power. A sump pump may lose power due to a blown fuse, dead battery backup, and accidental removal of the plug from the outlet.
Recommendation: 
We recommend a "water-powered backup" system and water alert sensors. The water-powered backup will take over during a power outage if the water level rises too high. The alerting sensors will alert the homeowner's cell phone if the basement starts to flood (this does require that the internet is working though).
Trust The Sump Pump Experts
Sump pump replacement is cost-effective than persistent repairs. Our team of sump pump installers is highly trained for all your sump pump installation and replacement needs.
Contact us right away
so we can help you resolve your sump pump concern today.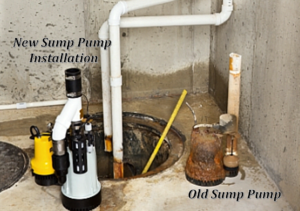 |   Photo Credits:
Canva