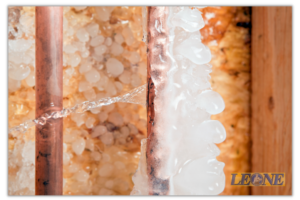 One of the problems that you may encounter during the winter season is frozen water pipes. If the weather is cold, freezing water expands which adds pressure to the plumbing pipes. This unyielding pressure may cause the pipes to crack, eventually leaking the water inside your home. Learning how to unfreeze frozen pipes safely and efficiently can save you from trouble and untimely repairs due to water damage.
Preventing Your Pipes From Freezing
Before discussing how to unfreeze frozen pipes, we should also remember that prevention is still the best remedy. Before the winter season comes, make sure that you take the following initiatives to protect your pipes from getting frozen.
Insulate the pipes.
You can insulate the pipes with pipe wrap or pipe insulation. The wrap comes in rolls and can be spun around the pipe. Pipe insulation is a foam tube that can be put around pipes. Pipe insulation comes in different lengths and snaps over the pipe. Another product available is electric heat tape. Heat tape is a plug-in wire system that can be run along copper pipes to keep it from freezing. This can be added under pipe insulation and will only turn on when the temperature reaches a certain point.
Adjust the thermostat accordingly.
Always maintain your thermostat set at the same temperature from morning to evening. This can also reduce the tension in the furnace during extreme cold weather. If you plan to leave the house for a few days, you can lower your home's thermostat but don't set it below 59 Degrees Fahrenheit.
Allow a faucet to drip overnight or when you are away.
Allowing water to run a small but steady drip can prevent ice from forming inside those pipes when temperatures are freezing. Ice cannot form when water is moving.
Open cabinet doors.
If your kitchen and bathroom pipes are near the exterior walls, we recommend that you leave the cabinet doors open. This will allow warm air to circulate and may help prevent burst pipes.
Seal cold air leaks.
Cold air can enter your home through holes where electrical wiring, pipes, duct work, or dryer vents are installed. Seal those gaps and locate other areas where cold air can enter.
How To Unfreeze Frozen Pipes?
Despite the effort of protecting your pipes from getting frozen, it is still possible that you will end up with frozen pipes. So how can you unfreeze frozen pipes safely and efficiently? Here are some of the tips we can share.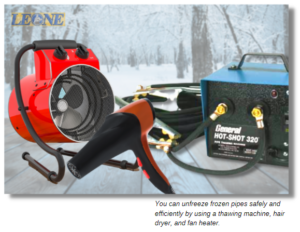 Get a thawing machine.
If you live in places that often get freezing temperatures, it is a wise decision to invest in getting a
thawing machine
. This machine can help to get water flowing and reduce the risk of having pipes burst.
Use a hair dryer as a source of heat.
If you use a hair dryer to thaw a frozen pipe, do this with caution. This procedure works best on metal pipes. If your pipes are plastic, be careful since hair dryers can melt plastic pipes. PVC pipes can be damaged at temperatures as low as 140 °F (60 °C). Do not use other appliances stronger than a hair dryer.
Blow a fan heater into outdoor vents.
Blowing warm air into an external vent can quickly thaw any pipes that are nearby. Pipes often run alongside ductwork, so enforcing warm air into the ducts is a good idea.
When To Ask For Help From A Plumber?
Learning how to unfreeze frozen pipes during winter seasons can help you save time and money from untimely repairs. But expect the unexpected! If all efforts are in vain despite all the know-how to unfreeze frozen pipes, then it's time for a professional plumber to handle the issue. Sometimes, it is easy to thaw frozen pipes by yourself. But if things are getting out of hand, it is better to contact
Rochester New York's best plumbers
!
Contact us
anytime and we are here to take care of your frozen pipes concern.
Read More