Time-Efficient Rough-In Kit For Bathroom Renovations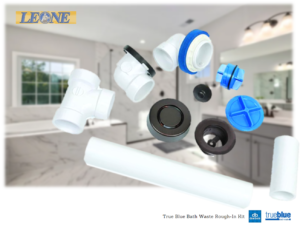 Bathroom renovation is an exciting endeavor. It's thrilling but at the same time, it can be time-consuming for a homeowner, especially for the contractor! One challenge that a contractor might encounter is bath waste and overflow installations. But thanks to pre-assembled components such as the
True Blue Bath Waste Rough-In Kits
that help contractors overcome the challenges when installing bathtub waste and overflows. The product's pre-assembled components are quick to install and you can even go from box to testing.
Key Features of the True Blue Bath Waste Rough-In Kit
Test plugs install with a 1/4 turn and are approved for testing up to 40ft of head. Makes testing fast and reliable.
Foamed rubber overflow gasket provides better compression and memory, creating a better and more reliable seal to prevent leaks.
The locking drain gasket is designed with a softer durometer and will not fall off at tricky angles. Reduces installation frustrations while creating a better seal.
Pre-assembled components make installation quicker, so you can go from box to test faster.
How Do Pre-assembled Components Make Installation So Easy?
The bath waste and overflow system is a very important component of your bathtub. This component both has a stoppable drain and an "overflow" which drains away water before it overflows. This is also one of the most difficult components to install during bathroom renovations. The pre-assembled True Blue Bath Waste Rough-In Kits is one innovative product that makes the contractor's job more convenient. The product has integrated locking features which reduce the number of tools needed during installation. Sure enough, it reduces frustration and time. Its integrated locking bath shoe gasket keeps it from moving at difficult angles while the drain spud is installed. The overflow and drain test plugs can be installed with a simple quarter turn which makes testing much more reliable and efficient.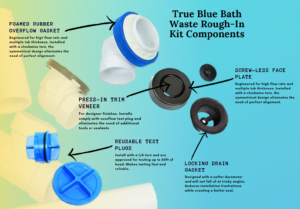 Fewer Tools, Less Trouble!
With a product such as the True Blue Bath Waste Rough-In Kits, you don't need more tools. The product has an overflow cover that can be locked with a simple clockwise turn. You don't have to trouble yourself bringing extra screws or tools. Leakage is not a problem because the overflow gasket is made of high-quality foamed rubber material. Unlike other products, the True Blue Bath Waste Rough-In Kit has a round trim that doesn't require perfect alignment. Other products have lines that look crooked when they are not lined up.
Maximize Time Efficiency With Innovative Products
Remodeling your bathroom can be time efficient with the help of innovative products like the True Blue Bath Waste Rough-In Kit. As the
bathroom remodeling
market continues to be in demand, it's important to find time-efficient ways to complete a project. Of course, time efficiency should not affect or compromise the quality of the service. That is why it's crucial to look for high-quality products that can make installation quicker. Time-efficient bathroom renovation is possible.
Contact us TODAY
to find out more!