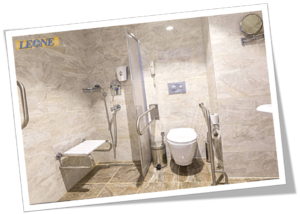 It is important for senior citizens to live in a place where they are safe, healthy, and well taken care of. Many seniors are now preferring to remain in their homes and continue living in their own communities. The so-called aging-in-place renovations are now becoming popular which makes safe and friendlier homes for baby boomers. In this blog, we will look specifically at aging-in-place bathroom renovation ideas for elderly people.
Why Do Baby Boomers Have To Upgrade Their Bathroom?
Most senior citizens live in homes that were built more than decades ago and this is where they lived most of their adult lives. Houses back then were not built or designed specifically to aid the need of the elderly people. That means home modification is needed particularly in the bathroom.
Aging-In-Place Ideas For Bathroom Renovation
Senior citizens need to be in comfortable and familiar surroundings as they age. They are prone to slip and falling in the bathroom so it has to be modified for a safe and accessible space. The following are some bathroom remodel ideas for senior citizens that you can apply.
Grab Bars
Seniors would naturally reach out for balance in the bathroom to shower or when they use the toilet. Installing Grab bars will help the elders access and navigate the bathroom safely. The grab bars have to be slip resistant and securely mounted to the wall.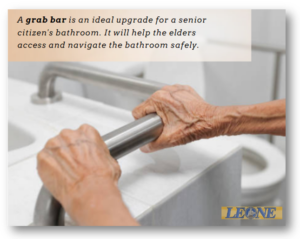 Vanity Height And Installation
Adjusting the vanity height is a big help for seniors in a wheelchair. According to the
ADA (The Americans with Disabilities Act)
, the ideal vanity height for people in a wheelchair is 34″ or shorter. Adjusting the vanity height prevents injuries as elders move about the bathroom. For senior citizens who use a walker on wheels, it is suggested to install a floating vanity to allow easier accessibility.
Non-Slip Solutions For Floors
There are several non-slip floor solutions available such as, applying anti-slip treads or stickers, rubber flooring, and adding non-slip rugs. Installing smaller tiles can also help create more grip than bigger tiles. For a seamless look, you can also upgrade to anti-slip tiles.
Elevated Toilets
Adding extra height to the toilet is another helpful bathroom design idea for the elderly. Going in and off the toilet makes it easier for senior citizens if you add extra height. The ideal toilet height for the elderly is three to five inches higher than the standard toilet.
Upgrade To Wide Doors
Widening the bathroom doors allows easier access for seniors on a walker or wheelchairs. The recommended door width is 36 inches to provide enough space to navigate going in and out of the bathroom.
Zero-Threshold Showers
Upgrading to curbless showers eliminates trip hazards since the threshold is eliminated and there is no need to step over.
Seek Professional Help With Aging-In-Place Bathroom Renovation
Renovating a bathroom for your elderly loved ones requires a professional touch. It is our goal to build a safe bathroom for you and your family. So
contact us today
and let's talk!
Read More