The Types and Proper Ways Of Using A Bidet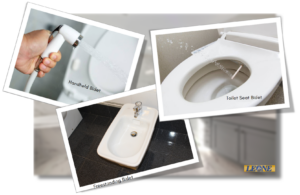 Some homes and business establishments have a bidet in their bathrooms. Bidets are much more common outside of the U.S. Over time, their designs have evolved to suit the needs of every home and business. Regardless of how it has evolved, using a bidet can be strange to anyone and not all people know how to use them properly. In this article, we will get to know more about bidets and how to properly use them.
Common Types of Bidets
The proper way of using a bidet can be achieved if you are aware of its design, mechanism, and function. Let's review the common types of bidets to get familiar with each of them.
Handheld Type
A handheld bidet is directly attached to the toilet or bathroom wall. It has a handheld sprayer that allows you to control the stream of water. Handheld types are flexible, versatile, and less intimidating to use. It's not only used for cleaning or rinsing your private area but it can also be used to clean the toilet and even cloth diapers.
Tip: Take your time until you get the right water pressure before you get comfortable using a handheld bidet. Lightly squeeze the trigger on the nozzle and do not press it too hard.
Toilet Seat Type
You don't need to shuffle around the bathroom to clean your bottom with a toilet seat bidet. While sitting on the toilet, a nozzle extends beneath you, spraying water to clean your bottom. It then retracts once you are done cleaning. Some toilet seat bidet feature integrated water heaters for those who prefer warm water for cleaning.
Tip: If you are planning to install a toilet seat type, be sure to pick the right size or shape for your toilet bowl. An oval-shaped toilet seat bidet is perfect if you have an elongated toilet bowl. For a round toilet bowl, it should be circular. To ensure that you pick the right size, measure the dimensions of your existing toilet seat.
Freestanding Type
A freestanding bidet usually stands next to the toilet. It looks like a sink and people may mistake it as a sink for hand washing. After using the toilet, you can sit, straddle, hover, or squat on it depending on the area you want the water jet to hit.
Tip: If you are not used to it, it's better that you straddle facing the nozzle so you can control the jet settings conveniently.
The Benefits Of Having A Bidet
Installing a bidet is good for both sustainability and health reasons.
It can save 54 gallons of water per week by reducing the use of toilet paper. Also, the excessive use of toilet paper in cleaning your bottom can cause a sore bum. Rinsing with water is less irritating than using paper wipes or toilet paper.
Bidet Installation
Contact us
if you need help with bidet installation. We are here standing by and ready to accommodate you!