Toilet Flapper Replacement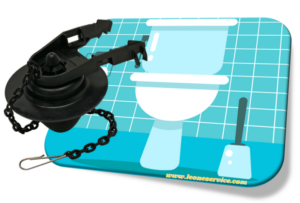 Every household needs a well-functioning toilet. Just imagine the trouble it would bring if the toilet malfunctions! Each part of the toilet plays an important role to keep everything running smoothly. However, some parts may be left unnoticed just like the toilet flapper. The only time that it gets attention is when there are signs that are telling you that it needs replacement. So what are the signs, and how do you go about dealing with toilet flapper replacement?
What causes a toilet flapper to malfunction?
Before we talk about toilet flapper replacement, let's first discuss what causes a toilet flapper to malfunction. Over time, a toilet flapper may wear out and can cause problems. Aside from age, flappers may deteriorate because of mold or mildew, bacterial growth, and some drop-in bowl cleaners that contain harsh chemicals.
How would you know if the toilet flapper is wearing out?
1. Through Sound
If there is something wrong with your toilet flapper, you will hear the water running continuously in the toilet tank.
2. Slow-Filling Toilet
If the water tank takes a while to fill, then it can be an indication that the flapper is deteriorating.
3. Ghost Flushing
This may sound spooky but there is nothing to be scared of. If the toilet flushes on its own or
ghost flushing
, it can be a result of a worn-out toilet flapper.
The impact of a failing toilet flapper on a toilet
The toilet flapper regulates the flow of water out of the tank into the bowl whenever you flush. A deteriorating flapper causes water to leak from the tank which in turn can prevent the toilet from flushing properly due to lower water pressure. Less water pressure will cause leaking or running toilets. In effect, this results in wastage of water that increases your water bill. If the signs are evident, don't wait for the issue to get worse. This calls for a toilet flapper replacement.
Things to look at when doing a toilet flapper replacement
If the flapper is more than 5 years old, then we recommend replacing or keeping an eye on it. If you are going to do the toilet flapper replacement by yourself, make sure that you pick the correct size. If it is less than 5 years old, a simple wiping will slow down the deterioration process. Check the rubber surface and wipe out slime and debris from the bottom and flush valve seat using a clean cloth.
When to seek professional help?
Nowadays, everyone can look at the internet and do the toilet flapper replacement by themselves
(DIY)
. For some, however, it can be uncomfortable and may lead to other toilet issues if the replacement is done improperly. If you are unsure of what to do, contact a professional to do the job! And speaking of professional help, we are here for you. For more details or help with any of your plumbing concerns,
contact us today!
Image Credit | Image by Hatice EROL from Pixabay