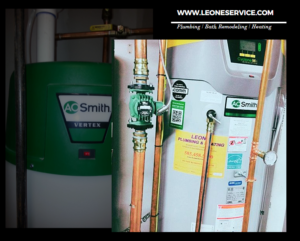 Water heaters are one of the important appliances in your home that you need to maintain. As a certified AO Smith Hot Water Heater technician, we know very well how to maintain the unit. If you own an AO Smith Hot Water Heater or planning to have one, this article will help you how to maintain the unit safely on your own.
You can do the unit maintenance by yourself. But before you get your hands working, make sure that you turn off the unit before touching it. In your home's breaker box, switch off the circuit breaker for the water heater first. After you have turned off the unit, you are good to go. Maintaining your AO Smith Hot Water Heater can be performed with these easy steps.
Check the temperature and pressure relief valve.
This should be done once a year. Annually test the temperature-pressure relief valve by discharging it quickly at least three times. While doing this, keep an eye for small leaks from the valve. If you see any drips, you need to repair the leaks or tighten the connections.
Watch out for leaks.
One of the culprits of water heater leaks is high water pressure or thermal expansion. You can control water pressure by installing a thermal expansion tank. To monitor the water pressure, you will need a water pressure gauge attached to the water heater drain valve or an outside faucet. If you find the water pressure reaches above 80 PSI, we recommend installing a pressure-reducing valve. We recommend setting the home's water pressure to 50-60 PSI. Higher water pressure can damage your water heater and your plumbing system. Also, check the water heater flue pipe for any leaks that could result in carbon monoxide leaks. Inspection for leaks should be done every month. Do immediate repair if you find any leaks.
Check the anode rod.
This aluminum or magnesium rod should be checked from time to time and needs to be replaced if worn out. The anode rod helps in protecting the tank from leaks. To remove the anode rod, follow the instructions in your owner's manual. You will know that you need to replace the rod if it looks slightly "chewed up" or most of the metal is gone.
Drain and Flush
Drain and flush the tank at least once a year. The first thing to do is you need to connect a garden hose to the drain valve and place the other end on a drain or outside. Using a screwdriver, open the drain valve and drain a few gallons of water. If the water looks cloudy, drain the tank until the water is clear.
Additional Maintenance and Safety Tips
Aside from routine maintenance, make sure that your water heater is not near any flammable materials such as gasoline, paint, and chemicals. Remove any combustible materials close by the unit to avoid incidents of fire. If you need urgent maintenance assistance,
please feel free to contact us
.
Read More