Bubbles In The Toilet: Is There Something Wrong?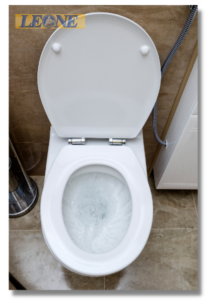 Your toilet can show unusual signs if there is something wrong with it. One sign that you should be concerned about is when you see bubbles in the toilet. If the toilet is bubbling with an unusual gurgling sound after you flush, it could indicate that there is a problem. You should not ignore these signs! Today, let's discuss why this could be happening and potential solutions.
Why Do I See Bubbles In The Toilet?
There are reasons why you see bubbles in the toilet. If you see this initial sign with unusual rumbling and gurgling noise, then it can be for the following reasons.
Clogged Drains
If the toilet drains or the overflow openings of the toilet are clogged, air won't flow properly. This occurs because there is no other outlet in addition to the toilet bowl, pressurized gas created by the trapped air comes out as bubbles every time you flush. This issue calls for a service of a professional plumber. A professional plumber can find and remove any objects (large or small) that are clogging the main drain pipe and the overflow openings of your toilet.
Obstruction On The Vent Stack
The vent stack is designed to be open at all times. It regulates air pressure in the plumbing system and releases exhaust gas. If the vent stack is blocked, it will release negative pressure that slows down the draining system. The common obstructions are leaves, twigs, and birds' nests. You need to contact a professional plumber to inspect and fix the issue.
Clogged Mainline
A clogged mainline can also cause negative air pressure in the pipes which causes the odd toilet bubbling and gurgling. If the clog is in the
municipal sewer line
, then it is your town's responsibility and you should not do the repair yourself.
Too Much Air In The Water Tank
If you hear your toilet gurgling every time you fill up your water tank, then it means there is excess air. You will also see bubbles in the toilet because of it. To fix this, you need to open your toilet's filler valve and let the water drain, then refill it again. In this way, you can get rid of any excess gas inside. If the issue still persists, contact a professional plumber to avoid further complications.
Get Rid Of That Toilet Bubbling And Gurgling!
Do not let yourself be bothered by the gurgling sound and bubbles in the toilet. If your toilet is starting to bubble with a gurgling noise,
call us
and allow our licensed plumber to help you.