The Pros and Cons of Installing a Sharkbite Fitting on Pipes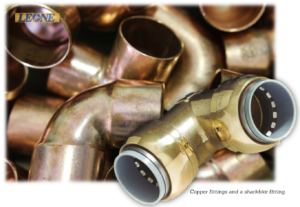 Sharkbite fittings have been a revolutionary innovation when it comes to plumbing repairs. Installing a sharkbite fitting is simple to use and convenient. In minutes, you can easily connect or fix leaks without soldering and replacing the pipes. However, if you ask professional plumbers, soldering pipes is still better. Let's talk about the pros and cons of installing a sharkbite fitting to determine which is best for you.
Sharkbite Fittings vs Soldering Pipes
A sharkbite fitting may become loose over time if not properly installed. There has been cases where homeowners call because their home is flooded due to a sharkbite fitting popped off. From a professional standpoint, we strongly recommend soldering pipes since it is a proven effective option. Push-fit fittings
(like sharkbite fitting)
don't have the credibility that soldering has.
Soldering pipes have been around for a long time
before the trend of using push-fit fittings. Some people believe installing a sharkbite fitting is much more convenient than soldering. In this case, whether you solder the pipes or use a sharkbite fitting, there are factors that you need to look at such as:
Your skill and level of experience
Soldering a pipe requires a level of skill and experience like a professional. A professional plumber have mastered the skill of soldering pipes over the years. You may do soldering yourself by purchasing the required tools, but it may lead to a low-quality output which can worsen the problem. For a non-professional, it's the right choice to use a sharkbite fitting since it is easy to install.
Place of the repair
Installing a sharkbite fitting would be effective in easily accessible places like below the sink or on a water heater connection. Soldering is recommended for hard-to-reach places like underground or behind walls since these places are unnoticeable and we have to ensure that the pipe connections are secured. Push-fit fittings are not recommended in hard-to-reach places since their failure rate is high. Fixing pipes underground or behind walls can be challenging and you should never resort to DIY fixing.
Your budget
Installing a sharkbite fitting is indeed a quick fix and much more convenient. However, convenience always comes at a cost. For a standard half-inch pipe, it may cost you $8.00 to $10.00 per fitting. For a basic copper fitting, it can cost up to $5.00 for the same size. If there are several fittings to replace, the cost difference may add up quickly. Soldering pipes on the other hand may cost less than installing sharbite fitting and it's a long-term solution.
Choose An Option That Fits Your Needs
Installing a sharkbite fitting is a convenient and quick-fix solution. But if you opt for a long-term solution,
soldering is the best option
due to its credibility and result. Copper pipes may last 50 to 70 years as long as it is installed properly and well-maintained. If you are unsure about your decision, you can
contact us
and we are here to help you!