What Makes My Air Conditioner Water Leaking?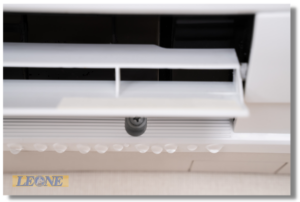 A leaking air conditioner is a very unsettling issue to handle. Looking at your air conditioner water leaking on the floor is such a messy sight. It adds to the discomfort given by the hot summer weather! Why is your air conditioner water leaking and what can be done about it?
Common Causes of Air Conditioner Water Leaking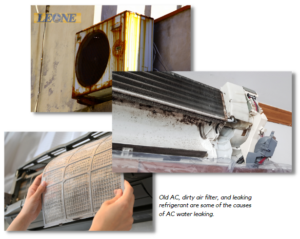 To handle the issue of air conditioner water leaking, you have to be aware of the following causes.
Deteriorating Pipes
How old is your AC? Old deteriorating pipes may cause the AC water to leak. One possibility is that the pipes are not actually leaking and instead, condensation is forming on the pipes because the insulating cover has deteriorated. Purchasing a new cover would solve this problem. If the water is still dripping despite replacing the pipe cover, it's possible that the leak isn't condensation but an underlying problem with the pipe itself. In this case, it would be best if you contact a professional plumber to inspect and fix the problem.
Unwashed or Greasy Air Filters
The AC's airflow can be blocked if the air filters are dirty. It hampers the air to get into the evaporator coil until it becomes cold and freezes. Eventually, the frozen water would melt excessively causing it to leak indoors. It's better to replace the air filter if it's filthy!
Clogged Drainage
Always remember that water will always find its way to get out. Dirt and dust collected on the drainage can block the water. To avoid this problem, make it a habit to regularly check the AC drainage for any clogs that block the water flow. If the issue keeps on persisting after cleaning the drainage, then it's time to seek help from a professional.
Leaky Refrigerant
The refrigerant is one important component of an AC that converts warm air into cool air. If there is a gurgling or hissing sound coming from the indoor unit, and when the AC is not blowing cool air as it should be, these can be signs that you have a leaky refrigerant. A refrigerant leak is not only
harmful to your health
but also to the
environment
. It's best to contact a professional to deal with this issue.
Incorrect AC Installation
Water from your AC may leak if the unit is installed unevenly. AC water may flow indoors causing unpleasant puddles. If your AC is unevenly installed, contact a professional plumber to place your AC correctly.
Do You Need Help Fixing Your AC Water Leaking?
If you need a hand to fix your AC water leaking,
contact us
and our team of professionals is here to help! We are Rochester New York's best plumbers. We commit to providing quality service for all your plumbing needs.