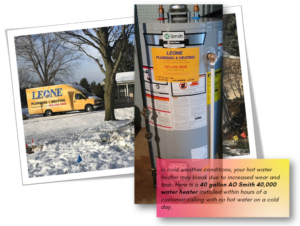 It's the most wonderful time of the year! Can you feel it? Having a steamy shower over a cold icy day beats the chill that the winter season brings. Your best friend is a hot water heater providing the exact warmth that you need. But like any appliance during the winter, it can be vulnerable to issues brought about by the cold weather. In this article, we will talk about the steps to prevent water heater issues from occurring this winter.
The Effect Of Cold Weather On Your Hot Water Heater
During winter, the water coming into your home can get up to 25 degrees colder
. The colder the water comes in, the greater the effort that is needed by your water heater. Because of the heavy workload, your water heater may encounter problems in the process. Here are the common water heater issues to watch out for.
Temperature
The temperature of your water heater should not rise beyond 120 degrees. If the temperature goes higher, it will cause the electrodes to break and scales fall into the water. This will cause the water to become more acidic and deteriorates the anodes protecting the walls of your water heater.
Insufficient Insulation
The holiday season can be very busy that you may overlook insulating your water heater. Just like your pipes that need insulation from the cold, your water heater also needs to be insulated. Insulating your hot water heater is important since its efficiency to produce hot water decreases during the winter season.
Malfunctioning Parts
During the cold season, parts of the water heater could malfunction. If you own a gas water heater, you need to keep an eye on the pilot light, thermocouple, and pilot control valve. If you have an electric water heater, inspect the thermostat and heating components.
Build Up Of Sediments
Those sediments building up on the bottom of water heaters can sip the heat out of the produced hot water. If this happens, your water heater will consume more energy and it can break due to over-usage.
Steps To Prevent Hot Water Heater Issues
There are simple steps to take to guard your hot water heater from the effects of cold weather. Here are the tips that you need to keep in mind.
Insulate Your Water Heater
Insulate your electric water heater with neoprene foam. For gas water heaters, you may use aluminum foil tape or fiberglass wrap.
Flush Your Water Heater Regularly
Regularly flushing your water heater can remove all the accumulated sediments and minerals that suck the heat out of the warm water.
Replace Parts If Needed
It is best to consult a licensed plumber to inspect your water heater. They will be able to assess if there are parts that need replacement such as the
thermocouple
and anodes.
Enjoy The Warmth Of Warm Water This Winter
Keep your home warm this winter season. Let us help you keep your hot water heater working.
Call us anytime
if you need help.
Read More