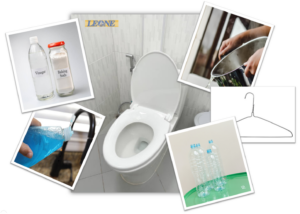 Unexpected situations can happen anytime. It may stress us but also push us to become resourceful in resolving a problem. Take it as an example if you deal with a clogged toilet without a plunger. Dealing with a clogged toilet without any tool on hand can be a nightmare! So how to unclog a toilet without a plunger? In this article, we will discuss other resources you can find at home which you can use to deal with a clogged toilet.
How To Unclog A Toilet Without A Plunger Using These 5 DIY Solutions Found At Home
Pour Hot Water
If you have a bucket
(or any large containers)
, fill it up with hot water. Do not use boiling water or else it may crack the porcelain toilet. From the waist level, pour the hot water into the toilet bowl. As you pour the hot water, its pressure and heat can dislodge whatever is clogging your toilet.
Use A Dish Soap
Your kitchen has an available solution on how to unclog a toilet without a plunger. You can use dish soap as a quick remedy! If pouring hot water doesn't work, add about half-cup of dish soap into the toilet. Leave it for 15 to 20 minutes then flush it again with hot water. Its lubricating property can help the clogged debris to flow down easily.
Baking Soda And Vinegar
Another popular DIY solution is using a mixture of
baking soda and vinegar
in the clogged toilet. What you need to do is add a cup of baking soda to the toilet bowl. Next, slowly pour the vinegar into the toilet until it bubbles. The fizz may dissipate the clog through the pipe as you flush.
DIY Drain Snake Using A Wire Hanger
You can turn a wire hanger into a DIY drain snake. To do so, straighten out the wire hanger. Then, push it down and prob whatever is clogging the toilet. Though this can be effective,
w
e do not recommend this approach as it may scratch the porcelain (do this approach at your own risk).
Use A 2-Liter Plastic Bottle
Fill the plastic bottle with warm water. You should wear rubber hand gloves when doing this since you'll get your hands into the bowl. Once you fit the top end of the bottle into the toilet bowl, place your thumb over it and squeeze to shoot out warm water. The water pressure that it makes should displace the clog.
What To Do If The Toilet Is Still Clogged?
There are many resourceful ways how to unclog a toilet without a plunger. But there are times when DIY solutions may not do well in our favor. There might be a serious clogged issue on your toilet that needs to be dealt with by a professional. If this happens,
contact us
and we will be glad to help you!
Read More