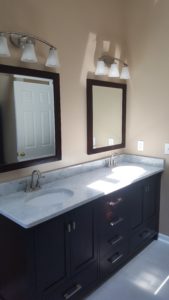 During the late 1980's, whirlpool tubs with smaller showers were quite popular as a therapeutic way to relax or relieve joint and muscle pains. However, these days, people have found that they lack the time to use a whirlpool as it was intended in this fast-paced world. Additionally, with the amount of space that whirlpools take up, many feel they aren't very practical or comfortable in most bathrooms.
A local Rochester, New York area couple decided that their master bathroom was simply no longer practical or functional. In this case, the whirlpool took up most of the space leaving a 36-inch space for a shower. They reached out to the Leone for help to design an elegant, fully functional master bath.
We were able to re-design the bathroom incorporating a large, more comfortable shower complete with bench and large recessed niche to hold plenty of product from tall to short. We were also able to incorporate a much larger vanity with two sinks and two mirrors with plenty of counter space in-between for all their needs.
Some of the work performed to reach this customers' goals were:
Remove existing shower and whirlpool tub
Relocate plumbing as needed to eliminate the tub and add a walk-in shower
Relocate toilet, vanity and drain for shower to accommodate new layout
Install one GFI outlet for vanity
Build custom walk-in shower
Install new vanities – one dual sink with double mirrors for the couple, one sinkless vanity to be used as the make-up area
All new tiling, flooring, and paint throughout
An additional cabinet for linen and make up storage
By the time the work was completed, the customers now had an extremely functional master bath! As a bonus, we were even able to incorporate a matching free-standing linen cabinet for additional storage. Together with the espresso finish and brushed nickel for all the matching pieces, this fully functional bathroom became a work of art!
Read More