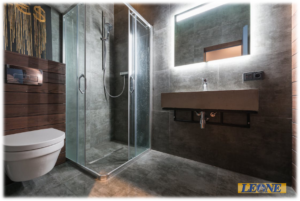 Another important aspect to consider when building or renovating a bathroom is sustainability. We can achieve sustainability in our projects by considering eco-friendly solutions available in the market. Going green is doable by using sustainable building products such as PET (polyethylene terephthalate), porcelain, reclaimed wood, and bamboo flooring. These materials are very popular because they are durable and can last for many years. But today, we will highlight one interesting shower solution that is eco-friendly that meets the standards when it comes to quality sustainable products.
Why Should We Go For Eco-Friendly Solutions For Our Bathroom?
Savoring the good things that life has to offer doesn't always come with ease. Carbon dioxide emissions are one thing that has a negative impact on the environment around us. In the United States, residential and commercial establishments contribute almost
40 percent of carbon dioxide emissions
. But we can lessen the percentage by going for eco-friendly solutions for bathroom renovation.
One successful eco-friendly innovation is the QuickDrain complete shower solution
!
The QuickDrain Complete Shower Solution Is An Eco-Friendly And Time-Efficient Option
The QuickDrain shower solution has taken one step towards sustainability from the time of production. Since 2015, the brand has repurposed 19 million plastic bottles into thousands of pre-sloped and tile-ready shower pan systems. For every QuickDrain shower pan system installed, 450 plastic bottles are recycled! The product is made from 100% recycled plastic bottles which makes it the best eco-friendly product you can find. It's not only friendly to the environment it's time efficient too. Its interlocking design can be quickly and easily modified directly on-site into any size or shape. Another perk of installing the product is it offers the chance to earn LEED certification points.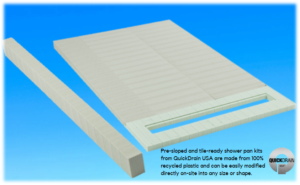 What are LEED points?
LEED is — Leadership in Energy and Environmental Design— points from the
U.S. Green Building Council (USGBC)
. USGBC is an organization that promotes and advocates greener and sustainable building design, construction, and operation. It is the most widely used green rating system in the world. LEED-certified homes utilize less energy and few resources which promotes healthy and safe homes.
Go Green With Sustainable Bathroom Drains
It's a
"green choice"
to install sustainable bathroom drain systems such as the QuickDrain complete shower solution. Using sustainable materials for your bathroom renovation is a wise contribution you can make to the environment. Let your bathroom renovation go green!
Contact us
and let's talk about sustainability for your bathroom renovation needs.
Read More